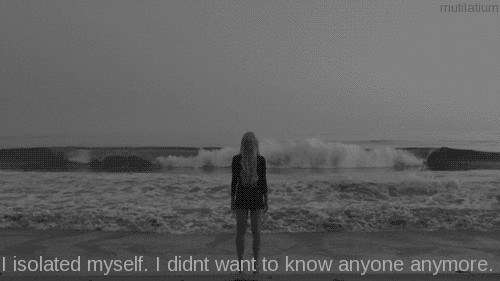 I spontaneously decided to write this because the topic this is about (it's obviously named in the title) represents a huge daily struggle for me.
My family has known about the severity of my disorders since my first suicide attempt got me into a psychiatric hospital in 2012, but despite all the family therapy sessions, long conversations and complicated explanations, they have always failed to understand them.
While my father always pretends it's not nearly as bad as I might think and my sister simply ignores the entire issue, my mom is the only one I have been trying to actually talk to about it on a regular basis, but it always leaves me feeling like I just held a speech for a stone wall. She either doesn't get it or doesn't want to. Which one of them it is I can't tell because I don't remember what it was like without the sicknesses, but it definitely makes living together very difficult this or the other way.
Whenever I try to express that certain things trigger me, it makes her first confused, then angry and then she tells me that she's not a therapist (which I know and I never expected her to act like one), and what's even worse is that she somehow is always immediately offended.
All I ever do is mention what behaviors of hers are a problem for me, and I always emphasize that I certainly don't mean to blame her for anything when saying that, but she immediately thinks that.
Like, literally every time, and I've been trying that every few weeks or months for several years now. What happened a couple days ago was another perfect example: I told her that it badly triggers me when she always puts things before food and makes eating something not important enough to spend her time doing without saying that it means she is to blame for any of my disordered behaviors, and she was super mad at me and refused to talk to me any further.
And during the next few meals, she gave me bitchy comments about how she was eating now and that she could obviously not have an eating disorder or support one because of that which I clearly never indicated either, and that made everything worse all over again. I keep telling her that all I want is try to make her understand what's going on with me so we can live together peacefully, but it just doesn't work out.
I love both my mom and sister to bits, but living here is hell. Firstly, the way they both eat is a daily trigger because my mom often simply doesn't eat half the day because there are more important things in her opinion, and my sister is too lazy to eat or not hungry enough for the same amounts of time, and that makes learning to eat normally hella difficult.
Stating that, I am NOT stating that this means they are to blame for my relapses or that they have eating disorders. I know that both of these things aren't AND have never been the case. But it makes things hard for me and I tell them about it because it would help me if they respected that. But nope.
So many things here are reasons to relapse: The basement that's always filled with huge amounts of supplies that always include my favorite foods for my bulimic sessions, their eating habits, how perfect my sister, her body and her life is and that I never had that, how she is appreciated and gets everything so much easier and faster than I ever did, how my worries are always ridiculed or invalidated because I'm supposedly exaggerating, how I 'don't have the time to be sick' or how I'm always expected to function.
And yes, there's more.
Whenever I dare to say that I'm better, it's just natural to expect that I've suddenly fully recovered, whenever I'm with my son, it's just absolutely impossible to be depressed (I love my baby more than anything, but that DOES NOT make serious illnesses magically disappear), that talking or writing about things being hard for me (like I do it right now) means that I'm somehow obsessing over them or getting all worked up… There is just so much.
And no, I don't blame my family. I love them and none of this is their fault. I just wish they'd at least try to understand me so they can actually listen to me and try to respect my wishes and concerns. I wish they'd realize that my bitchy attitude is an expression of my extreme mood swings, and that being better doesn't mean being healthy.
I am more than a teenage girl with a child, and I wish they saw more than that too. But I guess they won't and that's one of many reasons why I need to leave.
I definitely want to keep seeing them at least a few times a week, but I need to get out of this house. Of course, wanting to finally have my own place and be all grown up, independent and self-determining is an extremely important factor, but to be honest, the most important reason is that I will never be able to recover here.
It's not my family's fault, but it's true even though I could never tell them about them because they wouldn't get it.
The food stocks, the misunderstandings, fights, lies and my perfect sister who has all of her wishes granted every single day makes it absolutely impossible for me to truly end a life with diseases.
I am certainly making progress here, but I know that I'll never get further than that. But because my mom just lost her job and I financially depend on her because I haven't finished school yet and can't work additionally because of my son, I'm really, really scared that moving out won't be possible this summer like we actually planned and I'm stuck here. Ah hell. I feel so alone, but there is nobody I want to be with.
Rant over. Thank you for your attention.